The process of buying Learn Norwegian Naturally's products is very intuitive, but I have in this post answered some of the questions you might have related to the products and buying from the website.
What do you get?
The products are meant to be supplements to your Norwegian-learning on the Learn Norwegian Naturally Youtube-channel and on the website. The language in the videos is Norwegian and here you can purchase a transcript (the text/manuscript) of everything that's being said in the episode. The document(s) (Word-documents) you get consists of the Norwegian transcript and an English translation of the transcript next to each other, so it's easy to compare the two texts.
Here's an example of how the document is structured for each episode, with the Norwegian transcription at the left and the English translation at the right.
Here is an overview of the different episodes (click on the name to watch the episode):
What happens after you click on "Buy now"? 
When you click on any of the "Buy now"-icons above, you will be taken to Paypal. If you are not familar with Paypal, Paypal is definitely one of the most secure ways to pay online. The page you come to after clicking "Buy now" looks like this: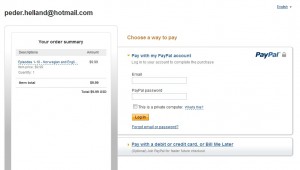 On the left side, you can see what product you've ordered along with the price. On the right side, you can either 1) pay with your Paypal-account, 2) pay with a debit or credit card, or choose to be billed later. After the payment, click on the link to go back to the website and you will be redirected back to a page where you can download the product(s) you bought.
Click on the download-link as it says and the Word-document will be opened.  Voilà! Make sure to save the document to your computer or device. You can download the product(s) you purchased a maximum of three times before the link expires. If anything goes wrongly or you click on the link too many times without managing to download the file, please contact me at peder.helland@hotmail.com and I'll fix it for you as soon as possible. No worries! 🙂
Do you have any questions? Please comment below or send an email to peder.helland@hotmail.com and I'll come back to you as soon as possible.
Thank you very much!
Best wishes,